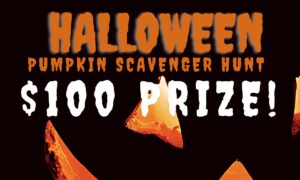 1. Pick up an entry form at the Berlin Welcome Center Foyer open 24/7.
2. Stroll around town and look for 20 tattooed pumpkins at a variety of shops in downtown Berlin
3. Write the words on each pumpkin on your entry form
4. Drop completed entry form off at the dropbox in the foyer of the Berlin Welcome Center
5. Drawing October 30. All 20 pumpkins must be found to be eligible. Contest runs Oct 1-29.
Enjoy!